The Playlist
The list of cards you see makes up your "playlist". When you hit the play button, these cards will be reviewed, roughly in the order that you see.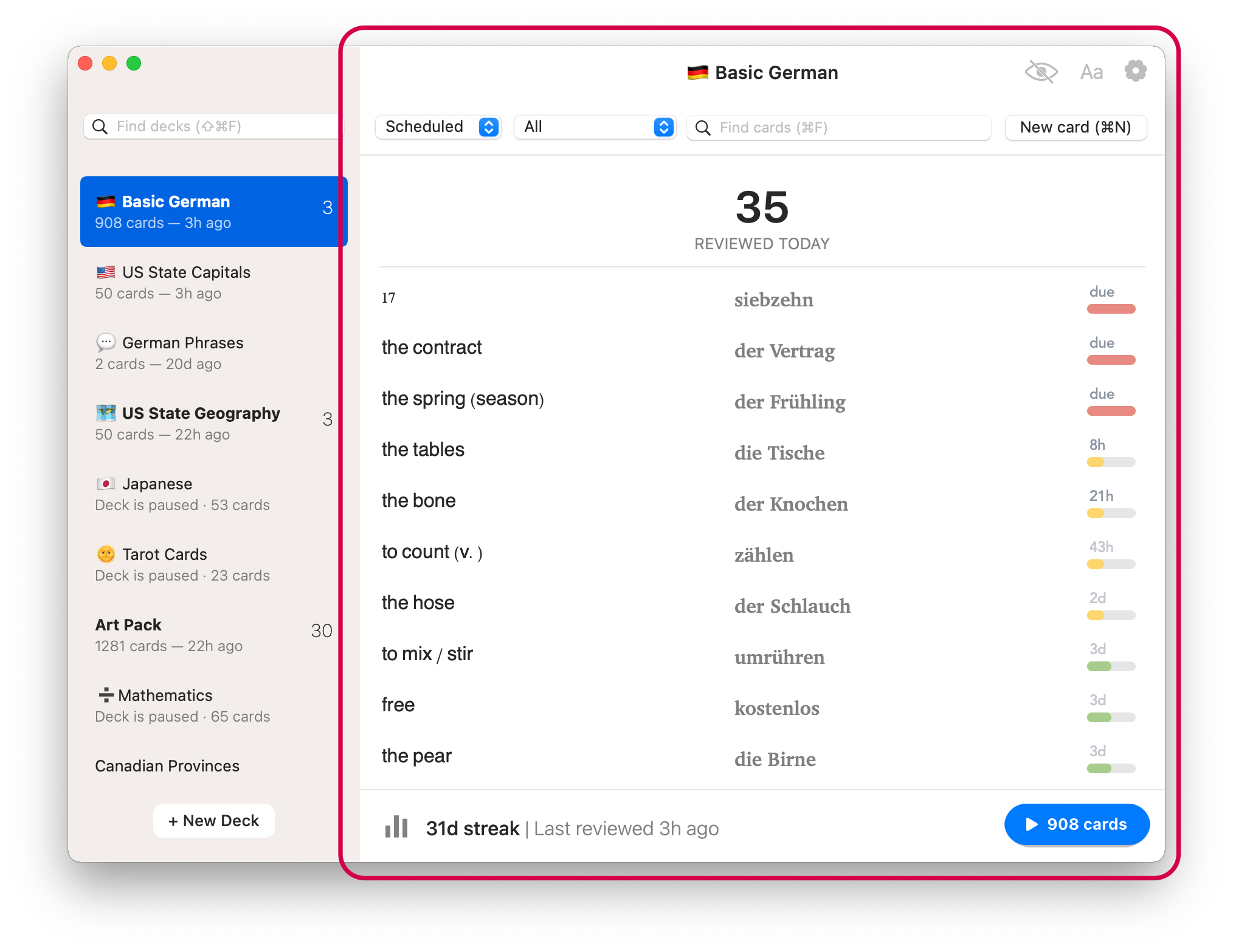 Fresh Cards uses different modes to let you reorder and filter the cards based on what you want to review. You can switch modes on macOS by using the dropdown list in the top-left corner of the playlist. Each mode has its own distinct set of filters, which can be changed using the dropdown list to the right of the mode list.
On iOS, you can access both of these by tapping the button in the bottom-left corner.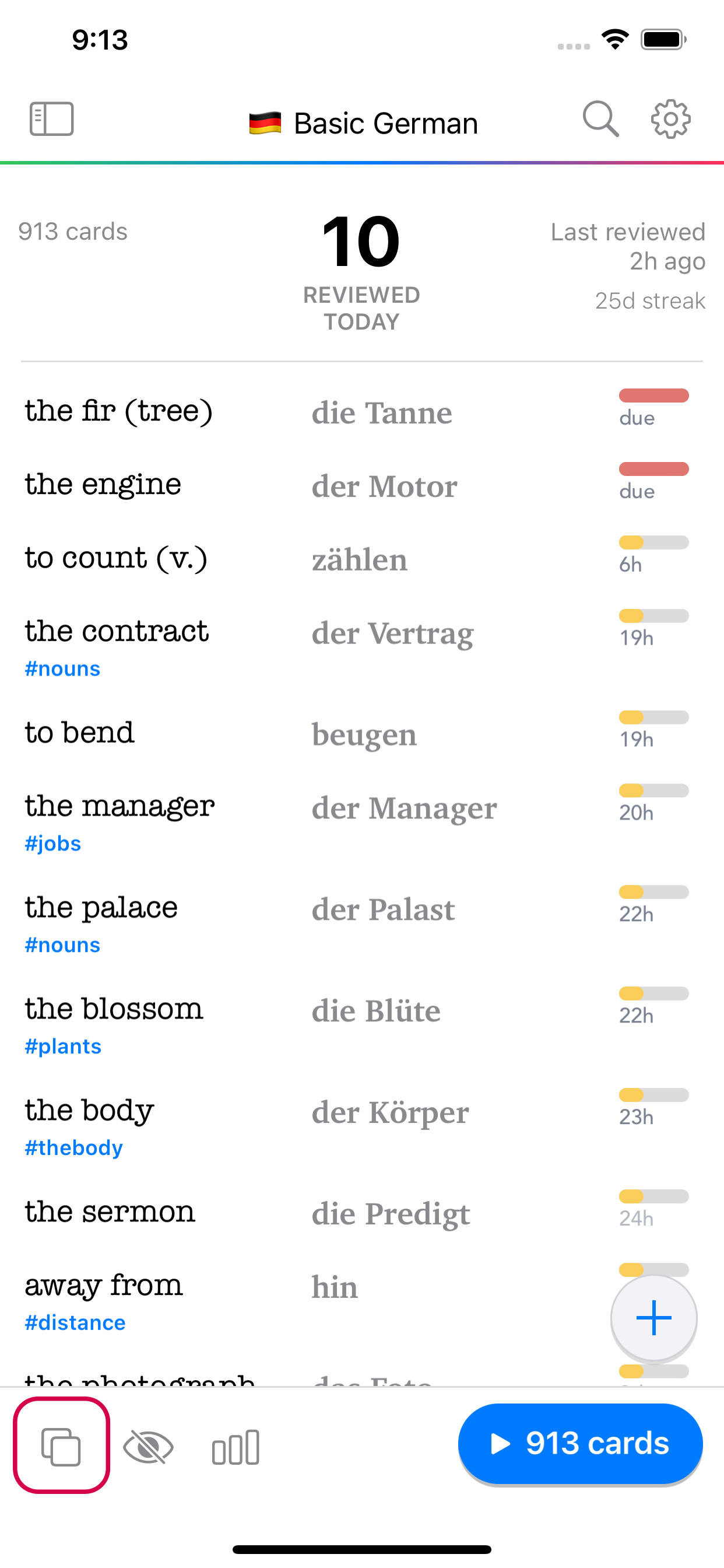 Here are the four modes:
Scheduled
Cram
Strength
History
Note that in all modes, card reviews are always saved. For instance, if you are in cram mode and review a card, it will have an effect on the card's next due date in Scheduled Mode, and may shift the card down in that list. Likewise, if you review a card in Scheduled Mode and switch to Cram Mode, you will see that card at the very end of the list.
Scheduled Mode
In this mode, cards are sorted based on their next review date.
Cards that are due for review now come first, followed by new cards (cards never reviewed before), and finally cards that are due in the future.
Use this mode if you want to adhere to a strict Spaced Repetition style of review where you only review cards that are due, or you wish to learn new cards. The filters provided here allow you to pick whether or not to show both Due and New cards, only Due, or only New cards.
If you don't see any cards matching your filter, that means there are no more cards to review matching your criteria. If you wish to review outside of the spaced repetition schedule, you may switch to the All filter, or better yet, switch to a different mode. See the section below on Spaced Repetition for more details on how cards are scheduled.
Cram Mode
Choose this mode if you wish to cycle through all the cards in the deck. The cards are sorted based on least-recently reviewed. That means you will be reviewing cards that you haven't seen in a while first. When you review a card, it goes to the bottom of the list.
Strength Mode
When you review a card, your self-reported right/wrong response along with how long you idle on the "question" side of the card determines your evaluation score for the card. A score below 3 indicates you marked a card as incorrect. Strength Mode sorts cards based on this score, allowing you to review harder cards first. A filter is provided to allow you to review only cards that were marked as incorrect in your most recent review.
History Mode
This mode allows you to view cards in the order in which they were added to your deck. You may filter to a smaller window to find cards added very recently. There is also a filter option to view cards reviewed recently, in case you want to find a card that you just reviewed.
Searching / Filtering
You can filter the list of cards by typing in the search field on macOS or tapping the search button on iOS.
When you do a search, the cards that show in the playlist will be the ones you end up reviewing when you hit the play button.
Filtering by tags
You can add tags to a card to make it easier to organize and group them. When you wish to find all cards with the same tag, simply use the search field above the playlist and enter the name of the tag, making sure to prefix it with the # character, for instance, to search for all cards tagged with "animals", search for #animals.
Tags are a great way to review cards by topic. If you search for a specific tag and then hit the play button, you will review only cards that are in the search results.